Alex Henshaw MBE was one of the nicest gentlemen it has ever been my honour and good fortune to call a friend.
The son of a wealthy businessman, Alex Henshaw was born at Peterborough on November 7 1912 and educated at Lincoln Grammar School.
As a boy he was fascinated by flying and by motorcycles, and with financial support from his father - who thought it safer to be in an aircraft than on a motorcycle - he learned to fly in 1932 at the Skegness and East Lincolnshire Aero Club.
After his first solo his father gave him a de Havilland Gypsy Moth, and he made rapid progress as a pilot; the following year he felt competent to enter the King's Cup Air Race as one of the youngest-ever competitors.
The King's Cup was the most prestigious air race of the period and attracted enormous public interest. In 1934 Alex was invited to take part in his Miles Hawk Major. His prototype engine failed as he crossed the Irish Sea, and he was forced to ditch.
The next year he bought an Arrow Active, an aerobatic biplane. While he was performing an inverted loop, however, there was an explosion and the aircraft caught fire; Henshaw was forced to bale out, using the parachute he had been given on his birthday four weeks earlier.
In 1937 Alex won the inaugural London-to-Isle of Man air race in atrocious weather. Finally, in 1938, flying a Percival Mew Gull, he won the King's Cup at the age of 25.
By 1939 Alex was already celebrated as a long distance Pilot, having broken the record for a flight to Cape Town and back, a record that stood for 70 years.
War Service
Alex's first job as a Test Pilot was flying Wellingtons and the Walrus. Frustrated by the amount of administrative work, Alex was about to leave the company when he met Jeffrey Quill, the Chief Test Pilot at Supermarine Vickers, who offered him a job.
Alex moved in June 1940 to the Vickers Armstrong (Supermarine) factory at Castle Bromwich, near Birmingham, where he was soon appointed Chief Production Test Pilot for Spitfires and Lancasters.
Although never enlisting in the RAF, Alex however took the rank of RAF Sergeant Pilot to fly a fully armed Spitfire to defend the Castle Bromwich factory if necessary. Fortunately it was not!
Alex was an outstanding test pilot. Between 1940 and 1945 he test flew some 2,500 individual Spitfires and Seafires (the naval version of the aircraft), amounting to more than 10% of the total built.
Little known is the fact that Alex also tested more than 300 Lancasters. He once famously barrel-rolled the big bomber (much to the amazement of another test pilot standing beside him at the time), the only pilot to have pulled off this feat!
It was dangerous work. Alex suffered a number of engine failures in Spitfires, and on one occasion, while flying over a built-up area, he crash-landed between two rows of houses.
The wings of his aircraft sheared off, and the engine and propeller finished up on someone's kitchen table. Alex, who sustained only minor injuries, was left sitting in the small cockpit section, which fortunately remained intact!
Only on one occasion was he forced to bail out while test flying when the engine of his Spitfire exploded. Alex was thrown out of the aircraft by the blast and became entangled in his parachute, which was badly torn and held together by a single thread on its perimeter. The thread amazingly held, and he landed safely.


Click here for a documentary on Alex Henshaw


Back in the Cockpit
To mark the 70th anniversary of the first flight of the Spitfire, the 93-year-old Alex flew over Southampton in a two-seater Spitfire, taking the controls once airborne. His Pilot commented that Alex could have landed the aircraft but for the prohibitive insurance costs. Alex told me afterwards that the only problem he experienced during the flight was the force of gravity, something he would have taken in his stride during the test flying days!
Apart from regular correspondence to me, all neatly typed (no computer) on blue notepaper, Alex was kind enough to send a number of beautiful prints, copies of the paintings by renowned Aviation Artist Michael Turner commissioned by Alex, which adorned the walls of his home, featuring various highlights of his long aviation career.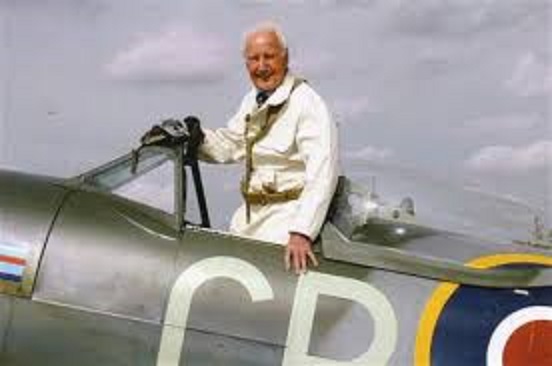 Alex in the cockpit at 93 years old
I was hoping to have other items in his extensive private collection donated to the Australian Aviation Museum (I was then Curator) by Alex. However, he not only donated his entire private collection to the RAF Museum, Hendon, he also donated enough funds to employ a full time Curator to catalogue and promote the collection!
Unheralded Awards
In his youth Alex received a Royal Humane Society Award for saving a boy from the River Witham, and in 1953, he was awarded the Queen's Commendation for Bravery following his rescue work during the great floods.
In his 90th year he gave a wonderful presentation, without the aid of notes, at an event in London to commemorate 100 years of flight. During the evening Prince Philip invested him as a Companion of the Air League.
Alex was a took a great interest in promoting "air-mindedness" in young people, for which the Air League awarded him the Jeffery Quill Medal in 1997.
First Meeting
My first meeting with Alex was an "adventure" in itself. He was brought to Australia in May, 1998 by the Spitfire Association to present the Spitfire Memorial Defence Award, given to members of the Australian Defence Force deemed to be involved with a defined program of research contributing to the defence of Australia.

Prior to the presentation of the Award in Canberra on the 9th of May, Alex was attending a function in Sydney which I planned to attend. The problem was that the day before that function, I was attending a Conference in Philadelphia.

Not to be daunted, I arranged to change my flight home to Sydney in time to drive straight from the International airport to the function. At least that was the plan!!! Taxiing out to the runway, the Captain announced "We have a slight problem. Our second runway is unserviceable due to storm damage, so there will be a slight delay in departure, but don't worry, we are number 4 for take off clearance"

I just knew what was coming next and, sure enough, we taxied back to the terminal twice before take off, effectively missing the only connecting flight from Los Angeles to Sydney capable of allowing me the opportunity to meet Alex!

To add insult to injury, when I finally caught up with my luggage in Sydney, all gifts bought for my wife and daughters during my time in the USA had been stolen!

All was not lost, however, and I managed to arrange admission to the later Spitfire Association function in Canberra (I was not a member of the Association at that time), which Alex would attend.

An added bonus was sharing a taxi to the event with famous RAAF WWII Spitfire Pilot Bobby Gibbes DSO, DFC and Bar, OAM and his lovely wife. I later sat with two other Spitfire Pilots, Bruce Watson and Ted Sly DFC. Ted and Alex Henshaw were great friends.

After the Memorial Presentation I at last had the pleasure of meeting Alex, and found him a very charming and modest person. Alex kindly gave me his home address, and we corresponded for several years until his untimely passing in February, 2007. During that time I had the good fortunate twice to visit Alex at his lovely home Abborfield, where he lived with his amazing Labrador Purdy (who was almost human, understanding everything Alex said to him), a part time Cook (her food was fabulous) and a husband and wife team to garden and clean.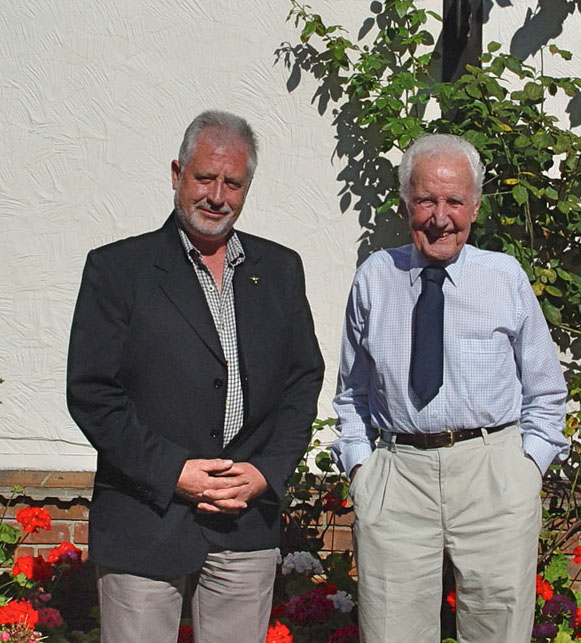 Trevor and Alex at Alex's home in Abborfield
Author: Trevor Dean